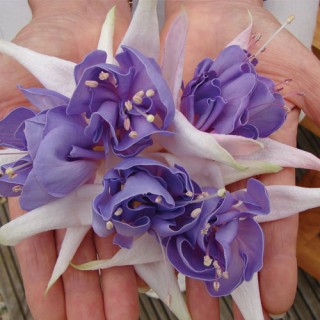 Fuchsia Trailing Blue Angel Plug Plant
Price: £1.25

COLOUR: White sepals with a blue/lilac double corolla
HEIGHT/ SPREAD: Can trail up to 50cm
IDEAL FOR: Hanging baskets/ Patio containers
FLOWERING PERIOD: June - October
PLANTING POSITION: Sun/ Partial shade
HARDINESS: Half-hardy Annual
SUPPLIED AS: Jumbo plugs with a 3cm rootball
​DISPATCH: March - May
Blue Angel is a fairly new variety of trailing Fuchsia, which has proven to be very popular with our customers! Ideal for planting in mixed hanging baskets or patio containers, or plant 5 in a 12" or 30cm hanging basket to create an amazing display.
These Fuchsia plugs will need potting on into a 9 or 10cm pot and growing on in a greenhouse or on a sunny windowsill. They can also be planted straight into hanging baskets as long as the baskets are kept in the warm. They need to be kept at a minimum of 7 degrees celsius. We recommend that you keep your plug plants quite dry in the early stages of growing to encourage root growth. However it is very important not to let them dry out completely! The compost should be kept moist, not waterlogged, but also not dry and dusty.
Once the risk of frost has passed your Fuchsias can be planted in the garden. Fuchsias prefer a position in sun or partial shade. Feed them weekly when they are in flower with a good quality multipurpose feed. Water regularly to prevent them from drying out. Watering is best done in the morning or evening instead of when the sun is at its strongest, to prevent the leaves from being scorched. Remove faded flowers before they go to seed to encourage new flower growth.
Share this on social media!