Upright Geranium plug plants
These Geranium plug plants have bushy growth with bright flowers. Upright Geraniums are ideal for patio containers or garden beds and borders. Try planting 3 upright Geranium plugs in a 12" or 30cm pot to give the appearance of one large plant. Upright Geraniums also make a lovely centrepiec in mixed hanging baskets.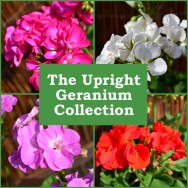 A collection of 5 different double flowering upright geraniums, all individually labelled. They all have nicely branching upright growth, and are ideal in tubs or the garden. They are also great as the centre piece of a mixed hanging basket. ...
Showing 1 to 1 of 1 (1 Pages)
Share this on social media!