Garden Bistro Sets
Relax on your patio with a smaller seating area that's ideal for breakfast al fresco.
Modern Rattan Bistro Sets
These chairs will be your new favourite place to relax.
Choosing rattan has many benefits, including it being weatheproof (leave it outside all year), and it comes with luxurious cushions making them even better.
You can even find a range of rocking arm chairs which are proving very popular!
Wood-effect Bistro Sets
These are a much more traditional look, with vertical slats and a grain effect that makes them look and feel like wood.
However unlike wood they require no maintenance, and can be left outside uncovered all year round. The best brand is called Winawood, and it comes with a 2 year warranty.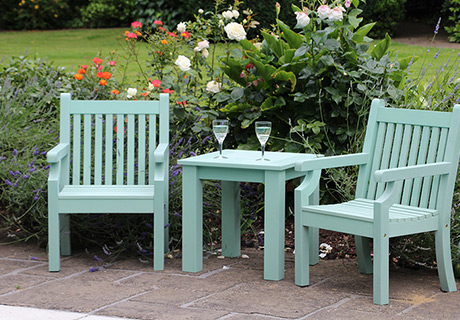 Learn More About Bistro Sets
Bistro sets are often overlooked by those planning to furnish their Garden spaces. Because they are smaller, it is easy to cast them aside as unusable or insubstantial.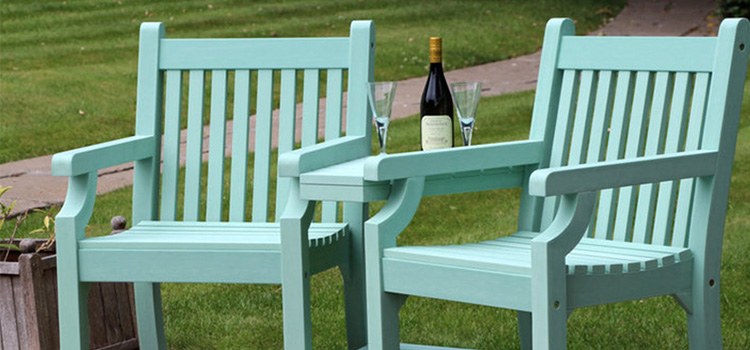 To the contrary, Garden bistro sets can be very useful in a variety of spaces. Bistro sets can be purely aesthetic, adding to the ambiance of a garden or they can be fully functional and utilitarian.
They are available in a verity of styles from very simple in design and function to extremely decorative where from may outweigh function. Garden bistro sets have been popular garden decor and functional furniture in many different parts of the world, though most bistro sets that are purchased today, in the country, have heavy European influence. Garden bistro sets are perfect for smaller spaces or for setting intended to be more intimate.
What do you get with a good outdoor 2 seater bistro set?
Bistro sets tend to be smaller than traditional dining sets and are usually comprised for one table and two chairs. The table in a bistro set can range in diameter, but usually is around two feet. Chair height is usually very low and the width and depth of the seat tends to be on the shallower side. Bistro sets are intended for short term sitting. They are not meant to entertain guests for hours.
Instead they are intended for brief Garden entertaining, short tea service, or for a resting spot for the gardener. When Garden bistro sets are intended to be used as aesthetic objects only, the options for the buyer are almost limitless. In this circumstance, the buyer does not need to be as concerned with size or stability of the set.
A more ornate, yet less functional bistro set can fulfill the requirements of the space without consideration for function. This is an uncommon interest for the average American homeowner, however. Most buyers interested in any type of Garden furniture, require that form and function exist in the same set. This limits some designs from being selected, yet the buyer is more likely to enjoy the furniture to the fullest possible degree. Garden bistro sets cast in aluminum or fabricated from wrought iron are the most common sets made to serve both the purposes of form and function.
Where to purchase garden bistro sets online?
Both of these materials are durable, sturdy, and can be formed into beautiful designs. Garden bistro sets can add beauty and function to a homeowner's Garden space. Bistro sets can be placed in almost any type of space be it a deck, patio, flower bed, grassy area, or in the middle of a clearing. We recommend that when purchasing online, you choose bistro sets from Garden Centre Shopping UK, as they have proven to have a fantastic reputation, including with Winawood and all weather rattan furniture.
Most bistro sets are low maintenance and easy to care for as well as to enjoy. Most Garden spaces can accommodate and would benefit from a well placed bistro set. It is amazing how such a small piece of furniture can add a tremendous amount enjoyment to a Garden space.